SACHIN TENDULKAR BIOGRAPHY POSITIVE THINGS
Sachin TENDULKAR BIOGRAPHY

Sachin Tendulkar, in full Sachin Ramesh Tendulkar,
(born April 24, 1973, Bombay [Mumbai], India), Indian professional cricketplayer, considered by many to be one of the greatest batsmen of all time. In 2012 he became the first cricketer to score 100 centuries (100 runs in a single innings) in international play.
Tendulkar was given his first bat when he was 11 years of age. As a 14-year-old, he used it to score 329 out of a world-record stand of 664 in a school match. A year later he scored a century on his first-class debut for Bombay (Mumbai), and at age 16 years 205 days he became India's youngest Test (international) cricketer, making his debut against Pakistan in Karachi in November 1989. When he was 18 he scored two centuries in Australia (148 in Sydney and 114 in Perth), and in 1994 he scored 179 against the West Indies. In August 1996, at age 23, Tendulkar was made captain of his country's team.
Although India was defeated in the semifinals of the 1996 World Cup, Tendulkar emerged as the tournament's top run scorer, with 523 runs. In 1998 he was chosen for the Rajiv Gandhi Khel Ratna Award, the highest award given to an Indian athlete, for his outstanding performance in the 1997–98 season. India was defeated by Australia in the 1999 World Cup, failing to advance past the round of six, and was soundly defeated by both Australia and South Africa in series later that year. In the 2003 World Cup, however, Tendulkar helped his team advance as far as the finals. Though India was again defeated by Australia, Tendulkar, who averaged 60.2, was named the man of the tournament.
Tendulkar made history in December 2005 when he scored his record-breaking 35th century in Test play against Sri Lanka. The feat was accomplished in a total of 125 Tests and allowed Tendulkar to surpass the prolific Indian run scorer Sunil Gavaskar. In June 2007 Tendulkar reached another major milestone when he became the first player to record 15,000 runs in one-day international (ODI) play, and in November 2011 he became the first batsman to score 15,000 runs in Test play. One month later he scored a historic "double century" in a contest against South Africa, becoming the first man in history to record 200 runs in a single innings of ODI play. He was named the 2010 International Cricket Council (ICC) Cricketer of the Year. In an ODI match against Bangladesh in March 2012, Tendulkar scored his record-setting 100th international century—which included both Test (51 centuries) and ODI (49 centuries) play. He retired from ODI cricket later that year, and in 2013 he ended a six-year stint with the Indian Premier League (as a member of the Mumbai Indians) and retired from Test cricket, ending his playing days with records for the most career international runs (34,357) and Test runs (15,921). Throughout his long career Tendulkar was consistently ranked among the game's best batsmen. He was often likened to Australia's Don Bradman in his single-minded dedication to scoring runs and the certainty of his strokeplay off both front and back foot.
In 2012 Tendulkar became a member of the Rajya Sabha, the upper chamber of the Indian parliament—the first active athlete to join that body; he was nominated to the post, and his term ended in 2018. In 2014 he became the first sportsman to receive India's highest civilian honour, the Bharat Ratna.
Tendulkar was born on 24 April 1973 into a Rajapur Saraswat Brahmin family in Bombay. He made an impact in cricket from a very early age, displaying a prodigious talent. By the age of 15, he had made his first-class debut. He made his test debut against Pakistan, aged only 16.
Sachin Tendulkar has played a key role in Indian test cricket ever since his debut at an early age in 1992. A child cricket prodigy who has lived up to his early promise. He is one of the most decorated players in the history of cricket. After his retirement from the game in 2013, he was awarded Bharat Ratna, India's highest civilian award – the youngest person to receive this award.
Tendulkar is the only player to score over 30,000 runs in international cricket. He scored a total of 34,357 runs in 664 international cricket matches. He is also the only player to score one hundred international hundreds and the first player to score a double hundred in limited overs cricket.
He has played many flawless innings and led India to many notable victories, not least over arch rivals and the number one test side – Australia in 2008. Standing only 5 ft 5 in (1.65 m) Tendulkar has often been called 'The Little master' – or even God of Cricket. He has a wonderful technique and can score runs with great fluency and style. He has minimal movement and can play a wide range of shots.
Sometimes Tendulkar has been criticised for making runs against easy opposition and not rising to the big occasion. But, that criticism is not entirely fair and Tendulkar has recently made some key hundreds in the most testing of situations.
Sachin Tendulkar was the first non-Yorkshireman born player to play for the county. It was a key moment for Yorkshire CC. Unfortunately, it was not an unreserved success as his dominant form deserted him.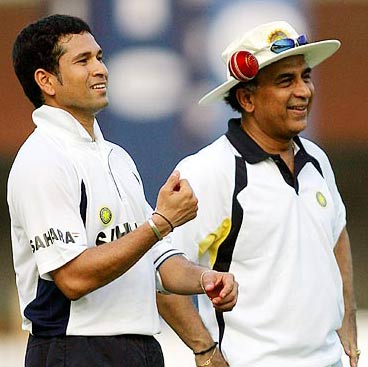 He was also the first player to pass 10,000 runs in limited overs cricket. At the start of 2013, he had accumulated a record 18,000 ODI runs, giving him over 34,000 runs at international level – a record that could stand for a long time.
In India, Sachin Tendulkar is one of the most famous persons in the country. He receives a tremendous amount of adulation and attention. He is admired not just for his cricket, but his image of being a good son of India.

He has a modest approach to life, being a quiet family man, and he still visits Indian temples. He is a devotee of the Hindu Guru, Sathya Sai Baba of Puttaparthi. Tendulkar is widely seen as a great role model.