JAWAHARLAL NEHRU BIOGRAPHY POSITIVE THINGS
Jawaharlal Nehru Biography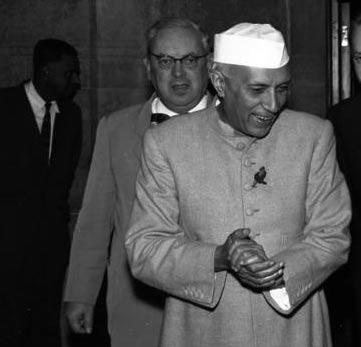 Jawaharlal Nehru (1889-1964) was an Indian nationalist who campaigned for Indian Independence. Under the tutelage of Gandhi, Nehru became India's first Prime Minister after India gained independence in 1947. Nehru held this position until his death in 1964.
Nehru was born in Allabhad and was educated in England, going to school at Harrow and later studying law at Trinity College, Cambridge.
On returning to India in 1912, he practised law and got married to Kamala Kaul. They had one daughter – Indira Gandhi (who would later succeed her father as Prime Minister of India).
In 1919, in the wake of the Amritsar massacre and growing calls for Indian independence, Nehru joined the Indian National Congress. He was a supporter of complete independence for India.
In 1927, Nehru was an influential voice in advocating the call for complete independence from the British Empire. Gandhi was initially reluctant but came to accept Nehru's leadership. After the British rejected dominion status, Nehru became leader of Congress and in December 1929 issued India's declaration of Independence.
"We believe that it is the inalienable right of the Indian people, as of any other people, to have freedom and to enjoy the fruits of their toil and have the necessities of life, so that they may have full opportunities of growth. We believe also that if any government deprives a people of these rights and oppresses them the people have a further right to alter it or abolish it."


During the 1920s and 1930s, he actively participated in the civil disobedience campaigns and was jailed on several occasions. He was one of the rising stars of the Indian independence movement and became seen as the natural successor to Mahatma Gandhi. As Gandhi took a more backseat role in political affairs and concentrated more on spiritual matters, Nehru became the defacto leader of the Indian independence movement.
In the 1930s, Nehru was working with Subhas Chandra Bose but split with Bose when he sought Axis help to drive the British from India.
In 1942, Nehru followed Gandhi's 'Quit India Movement'. Nehru had misgivings as he supported the British War effort against Nazi Germany, but was torn as he also wanted the British to leave India. In 1942, he was arrested for protesting and was put in jail until 1945.
On release from jail, Nehru found the Muslim league of Jinnah were much stronger and although opposed to partition, under pressure from Lord Mountbatten he came to view it as an inevitability. Nehru was initially opposed to the plan to separate India into two. However, under pressure from Mountbatten (the last British Viceroy), Nehru reluctantly agreed.
On gaining independence on August 15th, 1947, Nehru became India's first Prime Minister. On the eve of India's independence, Nehru gave a speech to Congress and the nation – known as "Tryst with Destiny"
"Long years ago we made a tryst with destiny, and now the time comes when we shall redeem our pledge, not wholly or in full measure, but very substantially. At the stroke of the midnight hour, when the world sleeps, India will awake to life and freedom." – Nehru, Tryst with Destiny


However, his joy at India's independence was overshadowed by the wave of sectarian killing and conflict over Kashmir which continues to this day.
As Prime Minister, Nehru played a crucial role in cementing the newly independent Republic of India as a democratic state committed to liberal democracy. Importantly, Nehru limited the power of Indian princes and princely states – Nehru was wary of the 'divine right of kings' after being imprisoned in the princely state of Nabha. In 1950, Nehru signed the Indian constitution which enshrined in law – universal rights and democratic principles. A year after Gandhi's assassination, he wrote an anonymous article about himself –
"He must be checked, we want no Caesars."


On the domestic front, Nehru was in the tradition of Fabian socialism – seeking to use state intervention to redistribute resources throughout society. He was sympathetic to aspects of Marxism, though critical of how it was implemented in countries like the Soviet Union. His government set up a system of universal education for children. This considerable achievement is marked annually on his birthdate (14 Nov) with a special anniversary – Bal Divas 'Children's day'
Nehru was a lifelong liberal and pursued policies to improve the welfare of the 'untouchable class' and Indian Women. Nehru was committed to secular ideas – once described as a Hindu agnostic. He was proud of India's Hindu heritage but also feared religion could become ossified and hold back India's development.
In foreign policy, Nehru was one of the leading figures in the non-aligned movement. Nehru sought to keep India out of the Cold war; he didn't want India to rely on foreign states – be it Russia or America.
"Peace is not only an absolute necessity for us in India in order to progress and develop but also of paramount importance to the world." Speech at Columbia University (1949)


As a statesman, Nehru was appreciated for his calm temperament and willingness to seek understanding between nations and conflicting parties. He carried himself with a degree of humility and willingness to seek a peaceful solution.
"We must constantly remind ourselves that whatever our religion or creed, we are all one people." (Radio broadcast. 1 December 1947)


In 1962, India was involved in a conflict with China over a border dispute. Militarily India was defeated and this took a heavy toll on Nehru. Nehru died in 1964. Two years later his daughter Indira Gandhi took office.
Nehru married Kamala Kaul in 1916 – they had one daughter Indira Gandhi. In 1942, Indira married Feroze Gandhi with whom they had two sons – Rajiv (b. 1944) and Sanjay (b. 1946).
Shri Jawaharlal Nehru
August 15, 1947 to May 27, 1964 | Congress
Pt. Jawaharlal Nehru was born in Allabahad on November 14, 1889. He received his early education at home under private tutors. At the age of fifteen, he went to England and after two years at Harrow, joined Cambridge University where he took his tripos in Natural Sciences. He was later called to the Bar from Inner Temple. He returned to India in 1912 and plunged straight into politics. Even as a student, he had been interested in the struggle of all nations who suffered under foreign domination. He took keen interest in the Sinn Fein Movement in Ireland. In India, he was inevitably drawn into the struggle for independence.
In 1912, he attended the Bankipore Congress as a delegate, and became Secretary of the Home Rule League, Allahabad in 1919. In 1916 he had his first meeting with Mahatma Gandhi and felt immensely inspired by him. He organised the first Kisan March in Pratapgarh District of Uttar Pradesh in 1920. He was twice imprisoned in connection with the Non-Cooperation Movement of 1920-22.
Pt. Nehru became the General Secretary of the All India Congress Committee in September 1923. He toured Italy, Switzerland, England, Belgium, Germany and Russia in 1926. In Belgium, he attended the Congress of Oppressed Nationalities in Brussels as an official delegate of the Indian National Congress. He also attended the tenth anniversary celebrations of the October Socialist Revolution in Moscow in 1927. Earlier, in 1926, at the Madras Congress, Nehru had been instrumental in committing the Congress to the goal of Independence. While leading a procession against the Simon commission, he was lathi-charged in Lucknow in 1928. On August 29, 1928 he attended the All-Party Congress and was one of the signatories to the Nehru Report on Indian Constitutional Reform, named after his father Shri Motilal Nehru. The same year, he also founded the 'Independence for India League', which advocated complete severance of the British connection with India, and became its General Secretary.
In 1929, Pt. Nehru was elected President of the Lahore Session of the Indian National Congress, where complete independence for the country was adopted as the goal. He was imprisoned several times during 1930-35 in connection with the Salt Satyagraha and other movements launched by the Congress. He completed his 'Autobiography' in Almora Jail on February 14, 1935. After release, he flew to Switzerland to see his ailing wife and visited London in February-March, 1936. He also visited Spain in July 1938, when the country was in the throws of Civil War. Just before the court-break of the Second World War, he visited China too.
On October 31, 1940 Pt. Nehru was arrested for offering individual Satyagraha to protest against India's forced participation in war. He was released along with the other leaders in December 1941. On August 7, 1942 Pt. Nehru moved the historic 'Quit India' resolution at the A.I.C.C. session in Bombay. On August 8,1942 he was arrested along with other leaders and taken to Ahmednagar Fort. This was his longest and also his last detention. In all, he suffered imprisonment nine times. After his release in January 1945, he organized legal defence for those officers and men of the INA charged with treason. In March 1946, Pt. Nehru toured South East Asia. He was elected President of the Congress for the fourth time on July 6, 1946 and again for three more terms from 1951 to 1954.