Indira Gandhi Biography POSITIVE THINGS
Indira Gandhi Biography

Indira Gandhi née: Nehru; (19 November 1917 – 31 October 1984) was the Prime Minister of the Republic of India for three consecutive terms from 1966 to 1977 and a fourth term from 1980 until her assassination in 1984 – a total of fifteen years. She was India's first female Prime Minister.
In 1999, she was voted the greatest woman of the past thousand years in a poll carried by BBC News, ahead of other notable women such as Queen Elizabeth I of England, Marie Curie and Mother Teresa.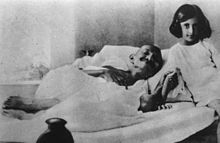 Gandhi and Indira
Born in the politically influential Nehru dynasty, she grew up in an intensely political atmosphere. Despite the same last name, she was no relation to the statesman Mohandas Gandhi. Her grandfather, Motilal Nehru, was a prominent Indian nationalist leader. Her father, Jawaharlal Nehru, was a pivotal figure in the Indian independence movement and the first Prime Minister of Independent India.
She was brought up in an environment with great exposure to the political figures of the day and was particularly influenced by her father. She stated of her father:
"My father was a statesman, I'm a political woman. My father was a saint. I'm not."


In one early photograph (above), she was sitting on the bed of Mohandas Gandhi as he recovered from one of his fasts. From an early age, she took as a political role model, Joan of Arc and expressed the hope that one day she would lead her people to freedom like the French saint.
In 1937, she passed the Oxford entrance exam and studied at Somerville College, Oxford. At university, she was often subject to ill health and returned to India without completing her degree – though later she was conferred an honorary degree by Oxford University.
On returning to India from Oxford in 1941, Indira became involved in the Indian Independence movement. Between 1947 and 1965, she served in her father's (J. Nehru) government. Although she was unofficially acting as a personal assistant, she wielded considerable power within the government. After her father's death in 1964, she was appointed as Minister of Information and Broadcasting in Lal Bahadur Shastri's cabinet. Shortly after, Shastri died unexpectedly and, with the help of Congress Party President, K. Kamaraj, Indira Gandhi was chosen to be the new Prime Minister of India.
Gandhi attracted significant electoral popularity helped by her personality and populist economic measures. She introduced more left-wing economic policies and sought to promote agricultural productivity. In 1971, she led India to a decisive victory in a war with Pakistan in East Pakistan. This led to the creation of Bangladesh. In 1974, India completed their own nuclear bomb.
However, in the early 1970s, partly due to rising oil prices the Indian economy suffered from high inflation, falling living standards, and combined with protests over corruption, there was great instability that led her to impose a state of emergency in 1975. In the state of emergency, political opponents were imprisoned, constitutional rights removed, and the press placed under strict censorship. This gave her a reputation for being authoritarian, willing to ignore democratic principles.
Her son Sanjay Gandhi was also increasingly unpopular as he wielded substantial powers, such as slum clearance and enforced sterilisation to deal with India's growing population. In 1977, against a backdrop of economic difficulties and growing disillusionment, Indira Gandhi lost the election and temporarily dropped out of politics.
However, she was returned to office in 1980. But, in this period, she became increasingly involved in an escalating conflict with Sikh separatists in Punjab. She was later assassinated by her own Sikh bodyguards in 1984 for her role in storming the sacred Golden Temple. Shortly before her assassination, she spoke on the frequent threats to her life.
"I do not care whether I live or die. I have lived a long life and I am proud that I spend the whole of my life in the service of my people. I am only proud of this and nothing else. I shall continue to serve until my last breath and when I die, I can say, that every drop of my blood will invigorate India and strengthen it." Selected Speeches of Indira Gandhi: January 1, 1982-October 30, 1984.


Family
Indira married Feroze Gandhi in 1942. The couple had two sons Rajiv (b. 1944) and Sanjay (b. 1946). Her husband died of a heart attack in 1960 and Sanjay – who was destined to be her political heir – perished in a plane crash in 1980. Devastated by the loss of Sanjay, Indira persuaded a reluctant Rajiv to quit his job and enter into politics. After his mother's assassination in 1984, he served as Indian Prime Minister from 1984-89. (Rajiv was assassinated by Tamil Tigers in 1991)
Indira Gandhi views on women
Indira Gandhi was a rare example of a woman rising to the most powerful position in Indian society. She did not consider herself a feminist but was concerned with issues relating to women and she saw her own success as proof that talented women could rise to the top. During her administration, equal pay for men and women was enshrined in the constitution. In a speech on "True Liberation Of Women", March 26, 1980, she said:
"To be liberated, a woman must feel free to be herself, not in rivalry to man but in the context of her own capacity and her personality."

Smt. Indira Gandhi
January 14, 1980 - October 31, 1984 | Congress (I)
Born on November 19, 1917 in an illustrious family, Smt. Indira Gandhi was the daughter of Pt. Jawaharlal Nehru. She studied at prime institutions like Ecole Nouvelle, Bex (Switzerland), Ecole Internationale, Geneva, Pupils' Own School, Poona and Bombay, Badminton School, Bristol, Vishwa Bharati, Shantiniketan and Somerville College, Oxford. She was conferred Honorary doctoral degree by a host of Universities globally. With an impressive academic background she also got the Citation of Distinction from the Columbia University. Smt. Indira Gandhi was actively involved in the freedom struggle. In her childhood, she founded the 'Bal Charkha Sangh' and in 1930, the 'Vanar Sena' of children to help the Congress party during the Non-Cooperation Movement. She was imprisoned in September 1942, and worked in riot-affected areas of Delhi in 1947 under Gandhi's guidance.
She got married to Feroze Gandhi on March 26, 1942 and had two sons. Smt. Gandhi became a Member, Congress Working Committee and Central Election of the party in 1955. In 1958 she was appointed as a Member for Central Parliamentary Board of Congress. She was the Chairperson, National Integration Council of A.I.C.C. and President, All India Youth Congress, 1956 and Women's Dept. A.I.C.C. She became the President, Indian National Congress in 1959 and served till 1960 and then again from January 1978.
She had been Minister for Information and Broadcasting (1964- 1966). Then she held the highest office as the Prime Minister of India from January 1966 to March 1977. Concurrently, she was the Minister for Atomic Energy from September 1967 to March 1977. She also held the additional charge of the Ministry of External Affairs from September 5, 1967 to February 14, 1969. Smt. Gandhi headed the Ministry of Home Affairs from June 1970 to November 1973 and Minister for Space from June 1972 to March 1977. From January 1980 she was Chairperson, Planning Commission. She again chaired the prime Minister's Office from January 14, 1980.
Smt. Indira Gandhi was associated with a large number of organisations and institutions, like Kamala Nehru Memorial Hospital, Gandhi Smarak Nidhi and Kasturba Gandhi Memorial Trust. She was the Chairperson of Swaraj Bhavan Trust. She was also associated with Bal Sahyog, Bal Bhavan Board and Children's National Museum in 1955. Smt. Gandhi founded the Kamala Nehru Vidyalaya in Allahabad. She was also associated with certain big institutions like Jawaharlal Nehru University and North-Eastern University during 1966-77. She also served as a Member of Delhi University Court, Indian Delegation to UNESCO (1960-64), Member, Executive Board of UNESCO from 1960-64 and Member, National Defence Council, 1962. She was also associated with Sangeet Natak Academy, National Integration Council, Himalayan Mountaineering Institute, Dakshina Bharat Hindi Prachar Sabha, Nehru Memorial Museum and Library Society and Jawaharlal Nehru Memorial Fund.
Smt. Gandhi also became a Member of Rajya Sabha in August 1964 and served till February 1967. She was the Member of Lok Sabha during fourth, fifth and sixth sessions. She was elected to the Seventh Lok Sabha from Rae Bareli (U.P.) and Medak (Andhra Pradesh) in January 1980. She chose to retain the Medak seat and relinquished the Rae Bareli seat. She was chosen as the leader of the Congress Parliamentary Party in 1967-77 and again in January 1980.
Interested in a wide array of subjects, she viewed life as an integrated process, where activities and interests are different facets of the whole, not separated into compartments or labelled under different heads.
She had many achievements to her credit. She was the recipient of Bharat Ratna in 1972, Mexican Academy Award for Liberation of Bangladesh (1972), 2nd Annual Medal, FAO (1973) and Sahitya Vachaspati (Hindi) by Nagari Pracharini Sabha in 1976. Smt. Gandhi also received Mothers' Award, U.S.A. in 1953, Islbella d'Este Award of Italy for outstanding work in diplomacy and Yale University's Howland Memorial Prize. For two consecutive years in 1967 and 1968 she was the woman most admired by the French according to a poll by the French Institute of Public Opinion. According to a special Gallup Poll Survey in the U.S.A. in 1971 she was the most admired person in the world. Diploma of Honour was conferred to her by the Argentine Society in 1971 for the Protection of Animals.
Her famous publications include 'The Years of Challenge' (1966-69), 'The Years of Endeavour' (1969-72), 'India' (London) in 1975; 'Inde' (Lausanne) in 1979 and numerous other collections of speeches and writings. She travelled widely in India and all over the world. Smt. Gandhi also visited neighbours like Afghanistan, Bangladesh, Bhutan, Burma, China, Nepal and Sri Lanka. She paid official visits to countries like France, German Democratic Republic, Federal Republic of Germany, Guyana, Hungary, Iran, Iraq and Italy. Smt. Gandhi was one to visit majority of the countries like Algeria, Argentina, Australia, Austria Belgium, Brazil, Bulgaria, Canada, Chile, Czechoslovakia, Bolivia and Egypt. She paid visits to many European, American and Asian nationals like Indonesia, Japan, Jamaica, Kenya, Malaysia, Mauritius, Mexico, Netherlands, New Zealand, Nigeria, Oman, Poland, Romania, Singapore, Switzerland, Syria, Sweden, Tanzania, Thailand, Trinidad and Tobago, U.A.E., the United Kingdom, U.S.A., U.S.S.R., Uruguay, Venezuela, Yugoslavia, Zambia and Zimbabwe. She also marked her presence in the United Nations Headquarters.