Cristiano Ronaldo Biography POSITIVE THINGS

Biography Cristiano Ronaldo
Cristiano Ronaldo is a Portuguese professional footballer who has played for Manchester United, Real Madrid and Portugal. Along with Lionel Messi, he is regularly considered to be one of the top two players in the world. He became the world's most expensive player when Real Madrid signed him for 94 million Euros in 2009 from Manchester United. His sustained performance has enabled him to break numerous records for goal scoring and has been named FIFA player of the year (Ballon d'Or) five times. He has become an iconic figure in the sport.
"Fans jeer me because I'm good-looking, rich and a great player."


Short Biography Cristiano Ronaldo
Cristiano Ronaldo dos Santos Aveiro was born in Portugal 5 February 1985.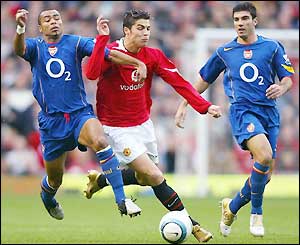 His second name 'Ronaldo' was named after his father's favourite American actor – Ronald Reagan.
From an early age, he loved playing football. His talent, enthusiasm and love for the game soon became apparent. By the age of ten, his talent was becoming well known in Portugal and he was signed for Nacional, a Portuguese side from Madeira. He later signed for Sporting Lisbon – one of the biggest clubs in Portugal.
His first international exposure came when representing Portugal under 17s at the UEFA championships. His performance caused him to be marked by leading European football managers. In 2003, he played against Manchester United when Sporting beat them 3-1 in a friendly.
After the departure of David Beckham, Sir Alex Ferguson decided to buy the youngster for a fee of £12.24 million. He started playing for Manchester in the 2003/04 season. Despite initially asking for the number 28 shirt, Ferguson insisted that he wear the famous number 7 shirt.
At Manchester United, his career steadily progressed. In the 2006/07 season, Ronaldo was a key figure in Manchester's successful league campaign. Ronaldo scored over 20 goals, as he won his first championship. In March 2007, his prowess helped him to gain a record-breaking £120,000 a week five-year contract. He also won PFA player of the year award.
The 2007-08 season was even better, with Cristiano Ronaldo being named the player of the tournament, as Manchester United won the coveted Champions League trophy. The most prestigious club competition in the world. Sir Alex Ferguson said of Ronaldo:
"We've had some great players at this club in my 20 years, but he's up with the best."


However, despite the success, Ronaldo expressed a desire to leave the club, and move to Real Madrid. In 2009, Manchester United accepted an offer of £80 million from Real Madrid, making Ronaldo the most expensive player in the world.
Despite intense pressure, Ronaldo thrived in the atmosphere at Real Madrid reaching 100 La Liga goals in just three seasons at Real Madrid. He has gone on to become Real Madrid's top goal scorer of all time. At times, Real Madrid have been overshadowed by their more successful rivals at Barcelona, who won more titles and competitions. With Ronaldo, Real Madrid have won the La Liga just twice – 2011–12, 2016–17. However, he has guided Real Madrid to three UEFA Champions League: 2013–14, 2015–16, 2016–17.
His prolific goal scoring record has lead to frequent comparison with Barcelona's exceptional Lionel Messi. Sometimes, Ronaldo played up the rivalry, but at other times played it down.
Ronaldo represented Portugal at The World Cup in 2006 and 2010 and the Euros 2004, 2008, 2012. Despite being a marked man, he helped Portugal to a consistently good performance. He is already Portugal's third most capped player.
Ronaldo's style of play creates both widespread admirations, and also criticism. He has the capacity to dribble and beat players, like few apart from Messi do. He is sometimes accused of being petulant (not helped in England because of his altercation with David Beckham, where he winked after getting Beckham sent off in the 2010 world cup.)
Outside of football, he is often photographed with his model girlfriends and in his many sports car. Perhaps unfairly, he is characterised as the ultimate 'playboy' footballer, with his styled hair, and expensive clothes. In 2009, he was involved in a crash whilst driving his Ferrari. However, after reacting to newspaper claims he was involved in drinking in England, he replied,
"I don't smoke or drink, and I'm not a big spender. I live in a rural part of Cheshire and my nearest neighbours are squirrels, birds and cows. Much of my time is spent at home with friends and family. I enjoy being peaceful and often sit by the candlelight to relax. Tranquillity is important to me."


However, Ronaldo has a strong work ethic, and has been able to maintain a consistently high standard of play for several seasons:
"I am not a perfectionist, but I like to feel that things are done well. More important than that, I feel an endless need to learn, to improve, to evolve, not only to please the coach and the fans, but also to feel satisfied with myself. It is my conviction that there are no limits to learning, and that it can never stop, no matter what our age."


– Cristiano Ronaldo.
The legendary George Best said of Ronaldo:
"There have been a few players described as the new George Best over the years, but this is the first time it's been a compliment to me."








Cristiano Ronaldo was a key member of the Real Madrid side winning the UEFA Champions League 2013–14. In 2013-14, Ronaldo was top scorer in the UEFA Champions League for the second year running. The 2014 World Cup was a disappointment with Portugal going out in the group stages. However, Ronaldo was the first Portuguese player to play and score in three World Cup tournaments

Some of Ronaldo's Records

Most goals scored in a single calendar year for club and country: 63 goals (2012)
Winner of five FIFA Ballon d'Or awards (given to world's best player)

World

At the time (2009) The most expensive footballer in history £80 million – Man Utd to Real Madrid
Only player in history to have scored 60 or more goals in a calendar year four times (consecutively from 2011 to 2014)

Europe

The only player to have won the European Golden Shoe in two different leagues (English Premier League and Spanish La Liga)
Only player to score 50 goals or more in six different seasons

Real Madrid

Most goals scored in a season in all competitions: 60 goals
Most goals scored in a single La Liga season: 46 goals
Most goals scored in a single UEFA Champions League season: 17 goals

England

Highest strike rate recording in winning the Premier League Golden Boot (31 goals over 34 games)