Benazir Bhutto Biography POSITIVE THINGS
Benazir Bhutto Biography
Benazir Bhutto (21 June 1953 – 27 Dec. 2007) was the first women elected to lead a Muslim state. Bhutto served as Prime Minister of Pakistan between (1988–1990, and 1993–1996).
"Ultimately, leadership is about the strength of one's convictions, the ability to endure the punches, and the energy to promote an idea. And I have found that those who do achieve peace never acquiesce to obstacles, especially those constructed of bigotry, intolerance, and inflexible tradition."


– Benazir Bhutto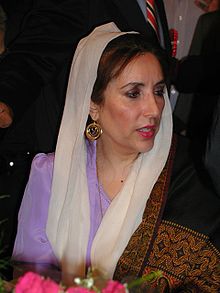 Benazir was the daughter of a former prime minister Zulfikar Ali Bhutto. Her family came from the Bhutto tribe of Sindhi and she was born in Karachi, Sindh.
Benazir was brought up speaking both Urdu and English, and after passing her A-Levels, she went to Oxford University, to study Law at Lady Margaret Hall college. After LMH, she studied at St Catherine's and became president of the Oxford Union in 1976.
After finishing at Oxford, she returned to Pakistan where she became embroiled in Pakistani politics. Her parents were opponents of the military dictatorship run by General Zia-ul-Haq. In the summer of 1979, they were placed under house arrest and faced great difficulties. She later wrote of her experiences of being under house arrest during the summer of 1981, where she was held in solitary confinement in the desert.
"The summer heat turned my cell into an oven. My skin split and peeled, coming off my hands in sheets."


—Benazir Bhutto, summer of 1981
In 1984, she was released from house arrest and began campaigning for a restoration of democracy. Shortly after her brother's murder (probably under orders of Zia-ul-Haq) she made a speech at the European Parliament in Strasbourg warning of human rights abuses in Pakistan. Benazir became the first women to lead a political party – Pakistan People's Front (PPF) and after the death of General Zia-ul-Haq, Pakistan moved towards its first democratic elections in more than a decade.
Bhutto and her party won the largest percentage of seats and were able to form a coalition government. She was sworn in as Prime Minister for the first time in 1988 at the age of 35. On coming to power she said:
"We gather together to celebrate freedom, to celebrate democracy, to celebrate the three most beautiful words in the English language: `"We the People.'"


—Benazir Bhutto on December 2, 1988,
However, under the orders of President Ghulam Ishaq Khan, she was removed from office 20 months later for alleged corruption. In 1993, she was re-elected but was again removed in 1996 on similar charges, this time by President Farooq Leghari.
As prime minister, she was often referred to as the "Iron Lady" for her uncompromising approach to negotiating with unions. She pursued various free-market economic policies, such as deregulation, flexible labour markets and privatisation. However, rising unemployment and inflation (stagflation) made her economic policies unpopular.
After conceding defeat in the 1997 elections, and being immersed in corruption scandals, she went into self-imposed exile in Dubai in 1998.
Nine years later, in 2007, Bhutto returned to Pakistan after being promised by President Musharraf that she would be granted amnesty from any corruption charges. Shortly before returning, she said in an interview:
"The forces of moderation and democracy must, and will, prevail against extremism and dictatorship. I will not be intimidated. I will step out on the tarmac in Karachi not to complete a journey, but to begin one. Despite threats of death, I will not acquiesce to tyranny, but rather lead the fight against it." (Boston Globe)


Whilst campaigning for the PPF in the upcoming 2008 elections, she was assassinated on 27 December 2007, in Rawalpindi. Shortly after her death, her son remarked (captured on video)
She was later named one of seven winners of the United Nations Prize in the Field of Human Rights

Pakistan's Benazir Bhutto (1953-2007) was the first democratically elected female leader of a Muslim country during a tumultuous life that ended with her assassination. The daughter of Pakistan Peoples Party (PPP) founder and Prime Minister Zulfikar Ali Bhutto, Bhutto took over as chairperson of the PPP in 1982. After her two stints as prime minister in the 1990s ended early amid charges of corruption, Bhutto spent several years in exile in London. She returned to Pakistan with plans to participate in the 2008 general election, but was killed during an attack at a PPP rally in late 2007.

Benazir Bhutto was born June 21, 1953, in Karachi, SE Pakistan, the eldest child of former premier Zulfikar Ali Bhutto. He founded the Pakistan People's Party (PPP) and was prime minister from 1971 to 1977. After completing her early education in Pakistan, she pursued her higher education in the United States. From 1969 to 1973, she attended Radcliffe College, and then Harvard University, where she graduated with a B.A. degree in comparative government. It was then onto the United Kingdom to study at Oxford from 1973 to 1977. There, she completed a course in International Law and Diplomacy.
Bhutto returned to Pakistan in 1977, and was placed under house arrest after the military coup led by General Mohammad Zia ul-Haq overthrew her father's government. One year after Zia ul-Haq became president in 1978, the elder Bhutto was hanged after his conviction on charges of authorizing the murder of an opponent. She inherited her father's leadership of the PPP.
There was more family tragedy in 1980 when Bhutto's brother Shahnawaz was killed in his apartment on the Riviera in 1980. The family insisted he was poisoned, but no charges were brought. Another brother, Murtaza, died in 1996 (while his sister was in power) in a gun battle with police in Karachi.
She moved to England in 1984, becoming the joint leader in exile of the PPP, then returned to Pakistan on April 10, 1986, to launch a nationwide campaign for 'open elections.
She married a wealthy landowner, Asif Ali Zardari, in Karachi on December 18, 1987. The couple had three children: son Bilawal and two daughters, Bakhtawar and Aseefa.
Zia ul-Haq's dictatorship ended when he was killed in a plane crash in 1988. And Bhutto was elected prime minister barely three months after giving birth to her first child. She became the first ever female prime minister of a Muslim nation on December 1, 1988. Bhutto was defeated in the 1990 election, and found herself in court defending herself against several charges of misconduct while in office. Bhutto continued to be a prominent focus of opposition discontent, and won a further election in 1993, but was replaced in 1996.While in self-imposed exile in Britain and Dubai, she was convicted in 1999 of corruption and sentenced to three years in prison. She continued to direct her party from abroad, being re-affirmed as PPP leader in 2002.
Bhutto returned to Pakistan on October 18, 2007, after President Musharraf granted her amnesty on all corruption charges, opening the way for her return and a possible power-sharing agreement.
Bhutto's homecoming rally after eight years in exile was hit by a suicide attack, killing 136 people. She only survived after ducking down at the moment of impact behind her armored vehicle. Bhutto said it was Pakistan's "blackest day" when Musharraf imposed a state of emergency Nov. 3 and threatened to bring her supporters on to the streets in mass demonstrations. She was placed under house arrest Nov. 9. Bhutto called for his resignation four days later. Emergency rule was lifted Dec.
Bhutto was killed when an assassin fired shots and then blew himself up after an election campaign rally in Rawalpindi on December 27, 2007. The attack also killed 28 others and wounded at least another 100. The attacker struck just minutes after Bhutto addressed a rally of thousands of supporters in the garrison city of Rawalpindi, 8 miles south of Islamabad. She died after hitting her head on part of her vehicle's sunroof — not as a result of bullets or shrapnel, a spokesman for Pakistan's Interior Ministry said. President Musharraf said he had asked a team of investigators from Britain's Scotland Yard to assist in the investigation into Bhutto's killing. Hundreds of thousands of mourners paid last respects to former Pakistani Prime Minister Benazir Bhutto on December 28, 2007 as she was buried at her family's mausoleum in Garhi Khuda Bakhsh, the southern province of Sindh. Pakistani President Pervez Musharraf announced three days of mourning. Bhutto's husband, Asif Ali Zardari, her three children and her sister Sanam attended the burial. Bhutto was buried alongside her father Zulfikar Ali Bhutto, Pakistan's first popularly elected prime minister who was later on executed by hanging.
The shooting and bombing attack on the charismatic former prime minister plunged Pakistan into turmoil. Pakistan is armed with nuclear weapons and is a key U.S. ally in the war on terrorism. Furious supporters rampaged through several cities, torching cars, trains and stores in violence that left at least 23 dead. Pakistan's election commission announced January 2, 2008 that parliamentary elections would be postponed until February 18, a delay of six weeks. Bhutto reportedly had been planning to give two visiting American lawmakers a 160-page report accusing the Musharraf government of taking steps to rig the Jan. 8 vote.
"The United States strongly condemns this cowardly act by murderous extremists who are trying to undermine Pakistan's democracy," President Bush said from his ranch near Crawford, "Those who committed this crime must be brought to justice."
Pakistan's Interior Ministry also revealed that it had "irrefutable evidence" showing that al Qaeda was behind Bhutto's assassination. Brigadier Javed Iqbal Cheema said the government had recorded an "intelligence intercept" in which al Qaeda leader Baitullah Mehsud "congratulated his people for carrying out this cowardly act." Mehsud is regarded as the commander of pro-Taliban forces in the lawless Pakistani tribal region South Waziristan, where al-Qaida fighters are also active. Mehsud has denied involvement.